Study Applied Sciences NZ: Study in New Zealand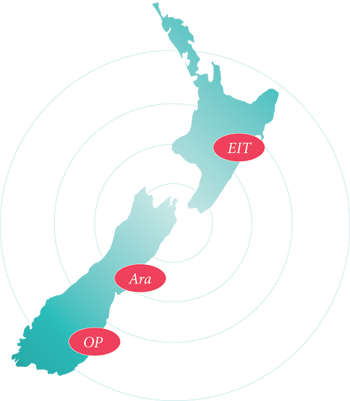 COVID-UPDATE: Due to NZ's borders being closed, our institutions are currently not in a position to accept enrolment applications from students outside of New Zealand. This might change towards the end of 2021 and we will keep you posted.
New Zealand offers a world class education: read more about our unparalleled quality of teaching.
The three member institutions of Study Applied Sciences NZ deliver highly applied programmes that enable graduates to seek successful careers anywhere in the world.
Read about award-winning lecturers in New Zealand.
The following three institutes of technologies belong to Study Applied Sciences (SAS) NZ:
» Eastern Institute of Technology (EIT)
» Ara Institute of Canterbury (Ara) (formerly: CPIT)
Please refer to the map for location of each university of applied sciences. EIT is located on the North Island, Ara and OP are located on the South Island. The institutions are NZ government owned and quality assessed by the NZ Qualifications Authority.
---