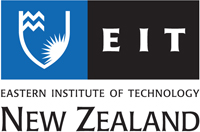 The main campus of the Eastern Institute of Technology (EIT) is located in Taradale, only a few kilometers from downtown Napier and just 5 kilometers from the beautiful shores of famous Hawkes Bay. Napier is located at the sea with a picturesqe promenade along the seafront.
The "Art Deco capitol" Napier (60,000 inhabitants) is adjacent to its twin city Hastings (also 60,000 inhabitants). The EIT campus is located in the centre of both cities. The Hawkes Bay is known for its mild climate, fine wine and Mediterranean lifestyle.
The Eastern Institute of Technology (EIT) in Napier is one of the leading institutes of applied sciences in New Zealand, and hosts over 10,000 students. About 400 international students come from 40 different countries every year to study in the beautiful Hawkes Bay and to take advantage of EIT's educational excellence.
EIT offers the only programmes in applied sciences in Oenology and Viticulture.  EIT maintains its own vineyards, winery and cellars. Social Sciences is another area of expertise and so is Sports Science, Business and IT.
EIT also offers double degree programmes, in which students can obtain a bachelor's degree in 2 different areas such as business and computing or business and sports within 4 years. EIT has a very good School of English, which also offers summer school courses.
The campus is very colorful with lots of green space and is one of the most beautiful and green campuses in New Zealand.
Next to EIT is the EIT Student Village which offers quality student accommodation at reasonable cost. EIT Student Village consists of 12 single-family houses, which are shared between 6 students. The single room here costs NZD 135 per week and must be rented for the entire semester (longer if needed).
» Student Experience report by Katja Feldtmann, BA Computing (in German)
---
Downloads:
» Application Form Eastern Institute of Technology
» Prospectus Eastern Institute of Technology
---
Contact:
International Centre Eastern Institute of Technology
Private Bag 1201
Gloucester Street
Taradale, Napier 4142
Telephone: 64-6-974-8902
Fax: 64-6-974-8905
Email: international@eit.ac.nz
Internet: www.eit.ac.nz
Study Options Info line: 0800 CALL EIT ( 2255 348) within New Zealand only