Study Applied Sciences NZ: Studieren in Neuseeland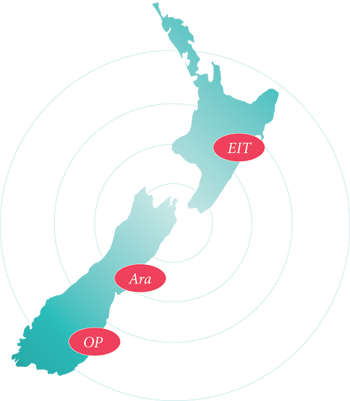 Studieren in Neuseeland ist einfach mit Study Applied Sciences NZ, einem Zusammenschluss von drei führenden Staatlichen Hochschulen für angewandte Wissenschaft. Unter Experten ist Neuseeland bekannt für seine durchgängig hohe Qualität der Hochschulen und der Professoren, die studieren in Neuseeland attraktiv machen. Study Applied Sciences NZ bietet Studierenden aus dem deutschsprachigen Raum besonders günstige Studienbedingungen sowie ein Teilstipendium.
Unsere Standorte sind über ganz Neuseeland verteilt und unsere Hochschulen sind innerhalb und außerhalb Neuseelands für ihre innovativen Studiengänge und praxisorientierte Lehre bekannt.
Als staatliche Universitäten für angewandte Wissenschaft unterstehen wir der NZ Qualifications Authority (NZQA), deren strenges Qualitätsassessments alle 3 Hochschulen von Study Applied Sciences (SAS)  beste Hochschulen (Category 1 Provider) bestanden haben.
Studieren in Neuseeland an den drei Hochschulen von SAS:
» Eastern Institute of Technology (EIT)
» Ara Institute of Canterbury (Ara) (vormals CPIT)
Auf der Landkarte wird die geografische Lage der einzelnen Hochschulen in Neuseeland dargestellt. Das EIT liegt auf der nördlichen Insel, die anderen zwei Hochschulen befinden sich auf der Südinsel Neuseelands.
---