… by Daniel Claessen, NL, BA International Business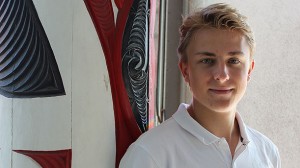 Ara Dutch exchange student Daniel Claessen has fully embraced New Zealand's lifestyle and culture during his 6 months in Christchurch as part of his third year in a Bachelor of International Business through Zuyd Maastricht University in the Netherlands.
Christchurch has become a second home for Daniel who is enjoying the people and the unique attractions created post-earthquake. "Everyone here is so friendly and welcoming and the earthquake has resulted in some innovative venues such as the container shops in the centre city," he says. Daniel is excited about Christchurch's progress. "It was obviously a beautiful city and I can't wait to see the rebuilt version," he says.
Studying at Ara, which at the time was named CPIT, has been a valuable experience for Daniel who has learned a lot from his tutors. "The tutors here have really worked in the industry they are teaching you about. They have so many interesting stories to share," he says.
Ara's international staff have been very helpful, supporting Daniel throughout his exchange from organising Visas, to taking him through his timetable. "They had everything organised for me when I arrived and I felt very welcome," he says.
The best part about Daniel's exchange has been learning to interact with different people from different cultures in his classes. "I have learned so much from others that I will take home with me to the Netherlands. The friendliness of Kiwis has been amazing and I have made some great friends."
Outside of study, Daniel has travelled throughout the South Island and the scenery has surpassed his expectations. "I've seen so many beautiful pictures of New Zealand but it really is more stunning here than I ever imagined," he says.
He has experienced Skydiving and Bungy Jumping at Fox Glacier, swimming with the dolphins in Akaroa and will travel to the North Island to learn about Maori culture. "New Zealand has awesome adventure sports and unique cultural experiences you just can't get anywhere else," he says. "I definitely want to come back."