… by Emelie Nordstrom, Sweden, Diploma in Adventure Tourism Leadership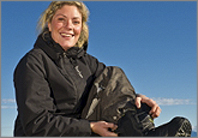 When Emelie Nordstrom arrived in Nelson from her home in Stockholm, Sweden, to study for a Diploma in Adventure Tourism she freely admits she had no idea about the great outdoors.
"I'd done some skiing but not much camping or anything so I was a real rookie when I arrived for the diploma. The course made me fall in love with the whole outdoors thing. It totally changed my whole way of living and what I appreciate and what I value."
For Emelie the experience of learning about nature was very powerful. "I've learnt so much about the world. It's like when you're river kayaking you find out pretty quickly that you can't control a river, instead you have to learn to appreciate nature."
Emelie specialised in kayaking and snowboarding on the Diploma and once she graduated, the 24 year old was keen to take up her first mountain job at the Porters Skifield. She works in a variety of roles including the ticket office, and rentals, but she's hoping to move into snowboard instructing, as she's about to get her instructor's licence soon.
"I learnt how to snowboard as part of the course – I'd never done it before. First we were taught to snowboard to a high standard and then we did our instructor course. And now I'm hooked."
Emelie especially loved the Māori culture component of the course. "We went into the bush and were shown what we could eat, what plants to use if you get an upset stomach or if you get an insect bite. It was fantastic new knowledge that showed me that nature has its own medicine cupboard."
Her enthusiasm for her new career has been driven by the NMIT tutors who she says were incredibly inspiring. "The tutors are amazing people. They've done so much for us and they were really cool and really professional and really good at everything. A lot of us have ended up wanting to teach outdoor skills purely because of the way they taught us."
Emelie's dream is to pass on the same skills she's been given on the diploma to others who haven't got opportunities. "I'd like to eventually open an outdoor education school for kids that don't like school and troubled youth, because we don't really have this kind of outdoor education back in Sweden."
Coming to study and now work on the other side of the world was an exciting prospect for Emelie and she says Nelson exceeded her expectations. "Nelson is definitely a cruisey place. I've made great friends with the people on the course – they'll all really cool people." She says from the moment she arrived people were friendly. "People I'd never met invited me for dinner and to stay in their homes and they really cared and showed me around and made me feel really at home." It's that sense of openness she'd like to take back to Sweden with her. "If anything helps you as a student from overseas it's that the people in this place are really amazing."
» NMIT Profile